Online advertising is a cost effective advertising medium enabling you to target specific markets surfing the web on a cost per click or cost per thousand (CPM) basis.

This method of advertising can be conducted through search engine key word purchases via various search engines ( such as Google ) or banner advertising on a specific websites.
Grow Your Business with Our Result Driven Search Engine Marketing
Whether you're a first-timer or are already conducting a paid campaign, we can customize your efforts to meet your objectives and help your businesses grow by applying advanced PPC strategies and taking advantage of every option available in search advertising to increase ROI.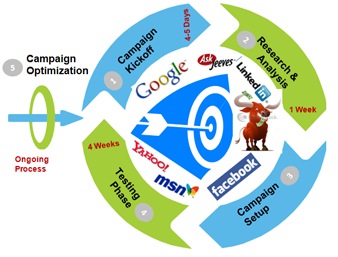 Accelerate Your ROI Generation Speed – Leverage the Search Engine Marketing (SEM) Advantage!
Pay per Click advertising is an aggressive and responsive online marketing medium that drives quick, targeted traffic, builds brands, and creates buzz. It is suitable for both B2C & B2B businesses. No other online marketing channel can reach a greater audience than the paid channel; it is an extremely flexible advertising platform where advertisers can fine tune marketing plans.